EarShades-the first headsets that not only let you talk hands-free,
but allow you to express yourself in a choice of four colors :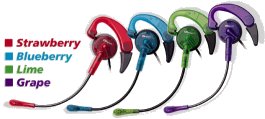 You have your own way of communicating;
why shouldn't your headset reflect that?
In the call center, EarShades have productivity-enhancing applications.
They can give agents a much needed sense of individuality, or help establish
team identities for customer relationship management (CRM) work teams.
EarShades Features
Include both headband and ear capsule
Superior Noise-canceling microphone
Flexible microphone boom
Lightweight, yet durable
Swivel mount receiver
Adjustable lobe hinge
Easily Connects to GN Netcom Headset Amplifier
Need a Headset Amplifier for your telephone? Click here
---
---
Updated April 16, 2002 ©1999-2002 Phonex Communications, Inc.